If you're like us, you may be thinking, "How much variation can there be between fitness trampolines? They're small and bouncy."
The last rebounder I saw was 20 years ago; it was basically just bare metal springs and a tiny jump area precariously held off the floor by 4 less-than-stable legs. Even as a risk-taking 7-year old, I thought that it looked unsafe. That's what I was expecting when we unpacked the Jumpsport Fitness Trampoline Model 250 from JumpSport and I don't think I have ever been more wrong.
So, let's take a look at what makes the Model 250 such a great choice.
JUMPSPORT TRAMPOLINE ADVANTAGES
JumpSport is known for making trampolines that incorporate proprietary technology aimed at increasing the safety, comfort, quality of build, and comfort of their trampolines. This Jumpsport trampoline rebounder is no different.
CORDS > SPRINGS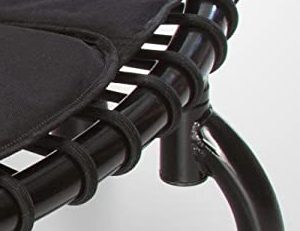 One of the qualities that make trampolines of any size so dangerous is the springs. People have been known to fall through the gaps between the individual springs. Fingers, toes, and other various body parts get pinched or stuck in them and they're not especially comfortable to fall on.
That's why it's so awesome that JumpSport has opted for a springless design that uses EnduroLife 2 cords, which provide several benefits to jumpers:
Elastic cords are safer and eliminate many of the problems caused by traditional spring designs, such as pinching, which is especially important if you have children.
Elastic cords provide a smoother and more cushioned bounce. They're much more flexible than springs, whose rigidity can make the bouncing feel harsh on the body. For people who require low-impact exercises, such as those that have feet, knee, or joint issues, this is a definite bonus.
The exercise trampoline jumping surface was also extended to 60% of the initial area which results in a total jumping area of 1,030 inches.
On a personal note—most of our staffers here tried out the Model 250, including those with various issues that make high-impact exercises an impossibility.
ASSEMBLY
The all steel frame of the JumpSport rebounder almost comes fully assembled, thus it will just 5-10 minutes to set up the trampoline and begin your workout. Take note that the trampoline does not come with an enclosure set so any children below four years old are not advisable to use the trampoline.
ARCHED LEGS
If you remember, one of the problems with the 20-year old rebounder that I mentioned above was that its design, particularly its legs, did not exactly scream "Stability!" or even "Don't worry, we won't tip over."
The Model 250 is designed with arched legs, which makes it much more stable than rebounders that use straight legs. This means that you can bounce without worrying that the trampoline will move from underneath you while you're airborne.
FLEXBOUNCE III
FlexBounce is actually a technology that JumpSport uses on some of its full-size, backyard models; they've just miniaturized it for this rebounder. FlexBounce is a feature that allows the user to adjust the tension and firmness of the bounce, letting you customize the jumping experience according to the jumper's needs, experience level, and workout length.
For instance, if you have a toddler using the JumpSport fitness trampoline you can adjust the settings so that when your Mini-Me bounces, he/she doesn't go flying into the air like some kind of baby-shaped experimental rocket.
COMES WITH A FREE FITNESS DVD
If you're ready to get into shape and think that a trampoline is the right exercise equipment for you, but don't really know how you're supposed to use it, then the included workout DVD can be a great help to you in reaching your fitness goals.
REBOUNDING HANDLEBAR
For additional safety, JumpSport offers a separately sold bar that can be attached to the trampoline. The stabilizer bar can give an added sense of balance since there is no safety enclosure set upon purchase. It will also give you options for additional upper body exercises plus, it is adjustable to 6 height positions for jumpers age four years old and above.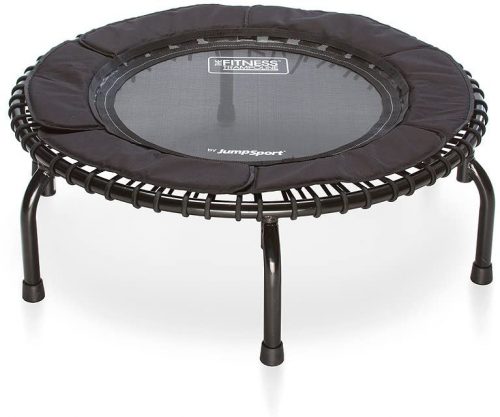 WARRANTY
This exercise trampoline has different warranties for different elements of the trampoline. There is a lifetime warranty for the frame and the legs, a 5-year warranty for the trampoline mat, 2 year- warranty for the elastic cords, and a 1 year for all other trampoline components.
FINAL REVIEW OF THE JUMPSPORT FITNESS TRAMPOLINE
We have no major complaints (and very few minor ones, like the small-ish jumping area) about this trampoline. But we have found a lot to praise, as evidenced by our review.
The jumpsport 250 is especially suitable for children and those who care about their impact on the body. Overall, we heartily recommend it. More best Trampolines