If you're looking for a trampoline, you probably want one that's large… but at the same time, you don't want to shell out an arm and a leg for a professional trampoline.
If that sounds like you, the 17' Skywalker oval trampoline is a perfect fit – it's big, it's affordable, and it comes with a heap of extras that most trampolines lack.
It's the Full Package
You don't want to be buying all of your trampoline parts from different sources. Not only is it more expensive, but you run the risk of certain parts not fitting together.
And especially on oval trampolines, it's often difficult to find parts that are in the correct size, because oval trampolines aren't as common as round or rectangular ones.
Getting the full package is just easier. The Skywalker 17' oval trampoline is exactly that – you get six legs, an enclosure net, firm, safe, thick padding, four stakes to secure it into the ground, and of course, the actual jumping surface.
Right out of the box, the Skywalker 17' oval trampoline is safe. The enclosure hooks in securely so that even if you were to try to break it, you couldn't. As long as you set it up correctly, an off-course jump won't lead to any injuries. When kids are involved, that's paramount.
Combining Size with Affordability
Have you ever jumped on a trampoline that's too small? If you have, you know that it's… for lack of a better word, annoying. If you want to jump high, you have to be careful to jump in the exact center, because smaller trampolines don't give you as much lift.
On the other hand, big trampolines give you a ton of lift. On a trampoline of this size, every jump will give you satisfactory propulsion, even if you don't hit the exact center.
And in addition to that, 17' trampolines allow for multiple people to jump without feeling crowded. Never exceed the weight limit, but multiple kids can jump on here without a problem.
So now you know why you'd want a 17' trampoline – the problem is that trampolines of this size are usually expensive. They can easily run into the thousands of dollars. Skywalker is focused on affordability, and because of that, you can get this oversize trampoline at a reasonable price.
Why Choose Oval?
Round trampolines are basic – they're the cheapest, but they lack power. Then, there are rectangular trampolines – they give you powerful jumps, but they're usually double the price of round ones.
Oval ones mix the best of both worlds together. They're more expensive than round ones, but you get a significantly better product.
Who Should Buy this Trampoline?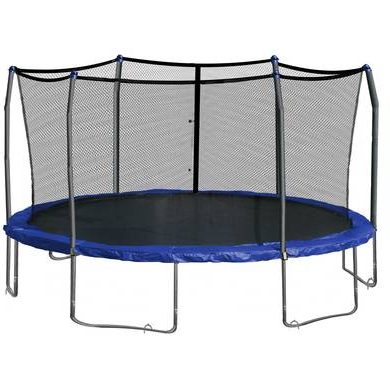 Families
Like we said before, on smaller trampolines, you won't be able to have multiple people jumping on it at once. If you try to cram a bunch of people onto a too-small trampoline, there's a good chance that everyone will fly into each other, and that can lead to injury. It often does – it's easy to control your own jumps, but it's impossible to know where the person next to you will jump next.
Athletes
Rectangular trampolines are ideal for athletes, but as we mentioned before, they're expensive. Oval trampolines give you more length, which means that athletes – especially gymnasts – can practice tricks and flips without risking a swift flight into the enclosure or onto the padding.
Anyone Concerned with Safety
Skywalker is a family company. They know that kids will be using the trampoline, so they make it safe for them.
On top of that, the stakes really do make a difference. If you live in an area that experiences frequent storms with high winds, the last thing you want is for your trampoline to start flying all over the place. They weigh hundreds of pounds, and having one smash into a deck (or even your house) is a recipe for disaster.
How to get it
Our recommendation is to buy from Amazon.
You get faster shipping than if you bought it directly from Skywalker.
You deal with Amazon customer support, which is notorious for being extremely helpful.
The price is often cheaper .
On Amazon, you can also read the reviews here. They're all positive – the only negative feature appears to be the instructions. When you get yours, be sure to follow the instructions down to the letter – if you don't, you might find yourself having to disassemble it and restart as one reviewer did. On the flip side, another reviewer said that with some help, it was fully put together in roughly two hours.