A trampoline tent is one of the upgrades you can make to your equipment and enjoy hours of outdoor fun, both day and night. These are basically covered for your trampoline that add a roofing material to it so that you can stay inside more comfortably.
Available in a wide range of designs, it's the perfect way to enjoy your trampoline at night, but it's also a great addition if you want to protect your little ones from harmful UV rays during the day.
If you can't pry your kids off the trampoline in the backyard, this product can still help you do that, but at least it will give them a cool shelter after the sun goes down. It also allows you to turn your trampoline into a fun and comfortable sleeping and relaxation area that the whole family will enjoy, especially if your equipment can hold a lot of weight.
Benefits of Using a Tented Trampoline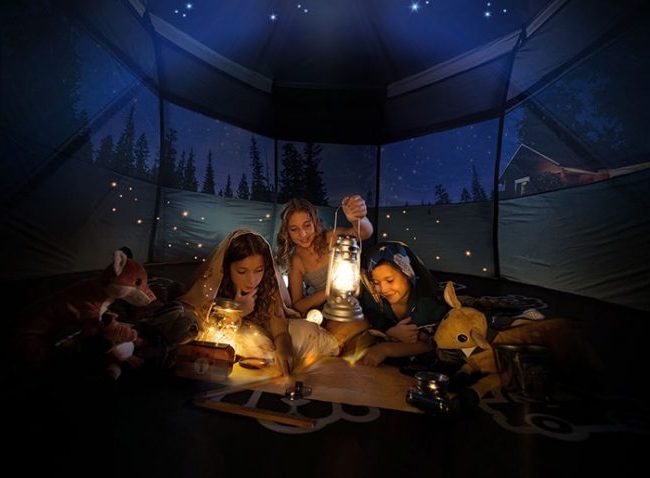 There are two main benefits to utilizing a trampoline with a tent attached rather than a traditional trampoline. Primarily, the tent adds safety by keeping children on the trampoline and preventing nasty falls. Most trampoline-related injuries are caused by falling off the trampoline. Therefore, the tent uses a durable fabric barrier to eliminate this risk. In addition, the trampoline tent provides shade for children when they use the trampoline, keeps them cool, and extends the available season of the game.
Trampoline Tents: Buying Guide
When shopping for a trampoline tent, pay careful attention to the materials used in its construction. Plastic supports may be cheaper, but tents with padded steel frames will last longer and will be easier to set up. The fabric on the tent should be flame retardant, and it should be made of durable yet breathable material. Nylon mesh has generally positive reviews, and some of the more expensive canvas tents are also ideal.
As you can see, there are plenty of styles available. It's up to you to decide which fits your trampoline and trampoline users the best. Here are a few things to consider.
SIZE
The size of your tent totally depends on your taste. If you want a large, castle-like tent, the Proper Trampoline Club House is a great option. That's the kind of tent for those who value extra privacy and protection. Both of the other options in my guide would be considered smaller than the Club House, so you can see there's a variety of sizes available.
FUNCTION
Is the purpose of your trampoline tent to prevent leaves and sticks from falling on the mat? Or is it to protect your children from the sun on extra hot days? Each tent excels at different things. After you figure out the main reason for your tent, the choice becomes clearer. At the very least, you can expect your tent to offer some protection from the weather.
BUILD QUALITY
The best trampoline mats are made from a material that can stand up to the weather. Ideally, the mat will be weather-proof, i.e., water and sun resistant. Next, it should be easy to assemble. Assembling a trampoline is tricky enough. Accessories should not be complicated. Tents have come a long way in terms of quality. Many now are very lightweight, yet still strong enough to handle the wear and tear.
YOUR TRAMPOLINE
Last but not least, the tent should be a good match for your trampoline. Always double check the correct size you think needs. While many tents are great, some are more suited for certain trampolines. Get the right size tent the first time to save you any trouble with returns.
WHY YOU SHOULD CONSIDER A TRAMPOLINE TENT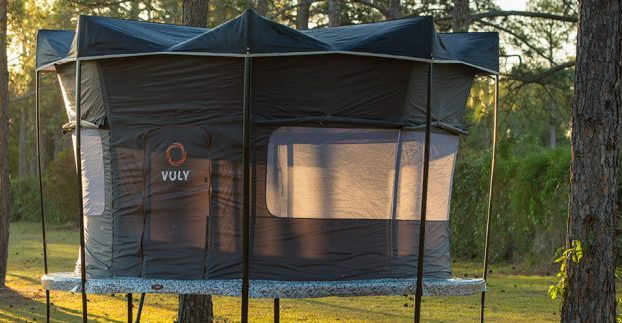 Along with ladders, a tent is one of the most useful accessories available. They serve many purposes. Keep in mind that they extend the lifespan of a trampoline, and can make using your trampoline more enjoyable. With the many options available, you're sure to find one you like. For me, a tent is a must have for any trampoline.
Top 4 Trampoline Tent Reviews
Interested in getting a trampoline tent? Here are four products that might tickle your fancy.
Propel Trampolines Trampoline Club House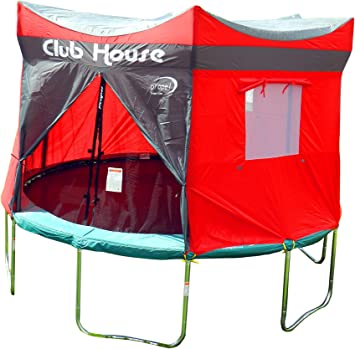 When you hear the word 'club house', the first thing that comes to mind is tons of fun activities waiting to be enjoyed. This is why it's such a fitting name for the Propel Trampolines Trampoline Club House as this product offers a whole new range of exciting activities that feature your outdoor equipment.
Made for Propel and Kinetic trampolines, the Club House looks like your regular tent with its zippered opening, mesh windows, and weather resistant fabric. The only difference is that it will rely on your trampoline's enclosure poles as it doesn't come with its own set.
This means that it will also offer as much vertical clearance as your enclosure poles, so if you still want to jump inside with the tent on, expect some limitations.
Unlike traditional tents, though, this product is very easy to set up. All you'll need to do is place the tent on top of your enclosure. Make sure to align the openings together so you can easily get in and out of the trampoline and so you can easily tie the tent down to the poles. You might need a ladder to get this done, but you definitely won't find doing this task much of a hassle.
PROS
It's a highly versatile trampoline accessory.
It's very easy to set up.
It can help protect kids from the heat of the sun.
It can transform your trampoline into a cozy backyard camping tent.
CONS
It won't easily fit other 15' trampolines aside from the specified brands.
The roofing tends to collect rainwater so constant draining is essential.
JumpSport BigTop Trampoline Tent
If you want something that will add some whimsy to your backyard, the JumpSport BigTop Trampoline Tent is an option worth looking into. This product has a cute carnival theme, so instead of having a camping tent aesthetic, this one feels more like a circus tent.
It's more playful and visually exciting for younger kids but it can also be perfect for adults who love to add some vintage charm to their property.
Ideally made for JumpSport round trampolines from 12' to 14', this tent is designed to be placed inside the enclosure net and not over it. Instead of having poles, you need to tie the cords into the poles of the enclosure net to hold the tent up.
This makes it safer and even cozier. It will also give you some open space for bouncing even with the tent setup. You won't have to worry about the structure while jumping as it will easily collapse under you due to the lack of posts.
PROS
The slanting roof helps avoid water from accumulating which can cause sagging.
It's very easy to set up.
It's cute and fun to have.
It might be compatible with other trampoline brands as well.
It's very spacious.
CONS
It doesn't offer a lot of vertical clearance if you want to bounce inside the tent.
Bazoongi Tree House Trampoline Tent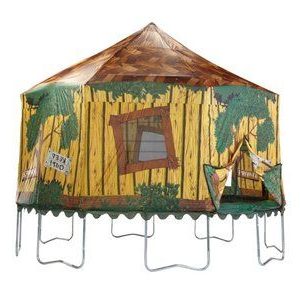 Another great trampoline tent option for your little one is the Bazoongi Tree House Trampoline Tent. this product features a treehouse print, making it look like a traditional kiddie backyard hideout.
It's honestly pretty apt since a tented trampoline will actually be your little one's escape if they don't have their own tree house.
With a cone-shaped roof and mesh windows, this tent will guarantee your little one's comfort and a lot of functionality. To set it up, you'll need to drape it over the Bazoongi Jump Pod as the enclosure poles will also double as the tent poles. To achieve its roof design, there is an internal frame that will easily hold up its shape.
Take note, however, that this tent is only compatible with a Bazoongi Jump Pod. If you want to use it with a different trampoline, you might find it tricky to work with or even entirely impossible if they don't have the same measurements as the Jump Pod.
PROS
It offers more vertical clearance so your little one can still bounce inside.
It looks utterly adorable.
Its roof's design won't allow water to accumulate and cause sagging.
It has a cute bunting-like skirt that makes it even cuter.
CONS
It can be more complicated to set up than the other items on this list.
Trampoline Tent for 14′ Round Trampolines
The Trampoline Tent by ACON is well suited for those looking for a classic tent design. When assembled, it looks just like a tent that would be used for camping. Although, this tent still provides the privacy and protection you expect. It's waterproof and blocks out plenty of suns.
It even assembles similarly to a real tent. But still, the assembly is easy, and it can even be disassembled just as quickly. The windows and door are even conveniently placed. Overall, this tent is very kid friendly.
As I said, it's a classic tent design. It's a great choice if you want to spend a night under the stars on your trampoline. You can get that authentic camping feel from this one.
Pros:
Easy to assemble and disassemble
Simple, classic tent design
Waterproof
Multiple windows and doors
Protects from UV rays
Cons:
Conclusion
Who would have known that a simple addition can further amp up the fun your trampoline can bring? With a compatible tent, your unit can easily transform into a cozy hideout that your kids will love to spend time in.
With its help, your child won't just be able to bounce around on your trampoline, but they can also use it for sleepovers or backyard camp-out nights.
Worried about the extra cost? Don't worry, because these products are definitely worth every penny. Just make sure to get a quality product that is compatible with your trampoline and you're sure to have hours of outdoor fun. The four products on this list are just a few of the most popular choices, so you can always start with them easily.