Why You Should Bring Little Tikes 3′ Trampoline for Your Kids?
Are you looking for some fun options to keep your kids engaged, but safe and how they can burn their energy indoors? Or do you need an alternative to a couch and mattress for your kids to jump on?
Stay calm as the answer to all your queries is just one item.
Surprised!!!
Not to be. Keep reading this insightful review and you'll see how to make staying indoors more fun for the little ones. And we are sure you will be pleased enough with this fun addition to your child's nursery. So today you are going to read our Little Tikes Trampoline Review.
Without any more prefacing, our exclusive product is Little Tikes 3′ Trampoline that has already made thousands of parents and kids happy.
3 Reasons To Buy 3′ Little Tikes Trampoline:
100% safe for kids
Super energy burner
Easy to assemble and store
Little Tikes 3′ Trampoline Review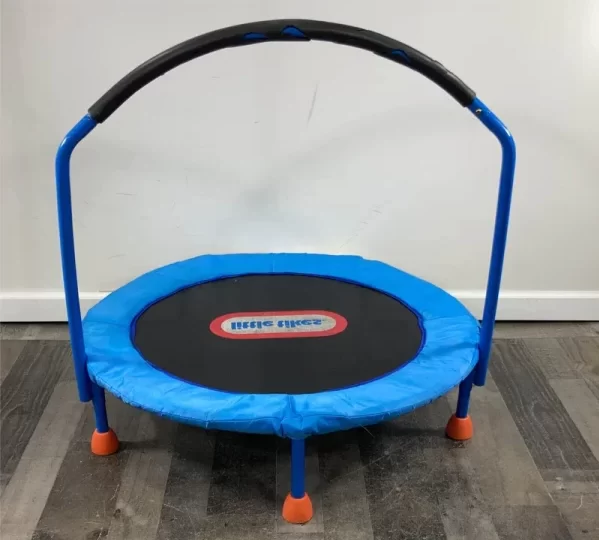 Little Tikes is known for its high-quality, innovative and safe products. And this trampoline is another excellent product from that manufacturer.
With plenty of jumping room and no springs, it's a fun toy for toddlers ages 3 to 6 to burn off their energy, yet keep them safe. You don't need to go to the park or play area for your child to enjoy some jumping time. Going out for trampoline activities can be a bit expensive. Therefore, a better idea is to spend once and see your child enjoy a daily moonwalk.
Features of Little Tikes 3′ Trampoline:
Handlebar:
Children below five can't balance themselves finely while jumping. Therefore, they need some help or support to play safely. Thus, a handlebar becomes a very reassuring feature in a kids' trampoline.
And Little Tikes intelligently added this prominent feature to their product. The item comes with a handlebar for finer gripping and more bounce. However, tall, strong or very energetic kids need to be a bit careful as the extra pressure could lead to lifting or tipping.
Spring-free Jumping Surface: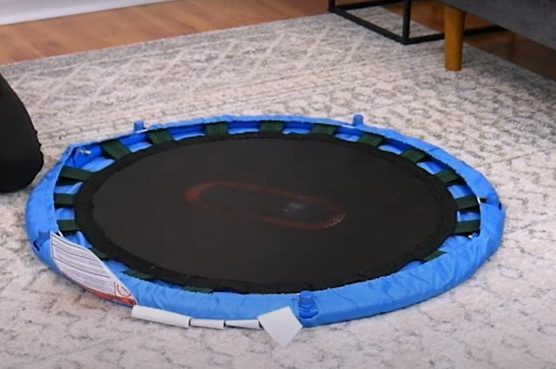 Another great feature of this Little Tikes 3′ Trampoline is that it doesn't have any springs or bungee cord. That means the assembling of the unit gets effortless and it also keeps the kids safe from any injury.
Children are very delicate and they might get their fingers to get pinched in springs. Therefore the manufacturer considered the points and used tough webbing for the jumping surface. Thus, kids can enjoy jumping sessions for longer, every day without being hurt. Moreover, this webbing also gives the product a good lifespan.
Easy to Assemble: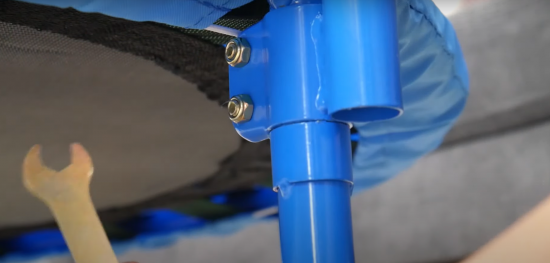 Usually, assembling such toys is a headache. But it is not the case with Little Tikes 3′ Trampoline. It doesn't have many parts ad the product quickly unfolds out of the box. So all you need is to screw up the handle and the legs to prepare it for your kid's fun time.
However, a few users have pointed out minor threading issues that trouble the screwing but that's not a considerable thing as they say it hardly took them a few minutes to read it.
Large Jumping Space:
It's no fun when kids have to restrict themselves. Little Tikes 3′ Trampoline offers large space so the children can jump without the fear of tipping or falling off. And while it is recommended for one kid at a time, a lot of users stated that the trampoline is large enough for two kids to play at a time.
Safe Material:
Little Tikes 3′ Trampoline is entirely made of plastic and metal. That makes it durable and much safer. It has the least number of screws and other small parts that could be hazardous. The 5 legs finely screw onto the threaded, painted and protected lugs.
The padded support bar is built into the legs and attached with screws. However, for some users, the foam padding on the handlebar seems a bit cheap and could come out easily. But we suggest using duct tape in case you have kids who love to chew things.
Pros
Easy to assemble and store
Safe to use
Made with good quality material
Comes with a handlebar
Large jumping surface
No screws or bungee cord
Cons
The foam on the handlebar is easy to tear
The handlebar doesn't move
Threading is cheap
Prone to tipping over
Frequently Asked Questions:
What is the weight and age limit?
Little Tikes 3′ Trampoline is good for toddlers between 3 to 6 years. Kids younger than 3 years cannot balance themselves very well. Therefore, the chances of tipping are more.
The trampoline can bear up to 55 lbs.
How easy it is to store?
Little Tikes 3′ Trampoline has a handlebar that doesn't fold. You need to unscrew it. Although, the product is very compact and doesn't need much space to store.
Is the trampoline lightweight?
Yes. It is very light and easy to handle. You can easily lift the item and can take it from one room to another without any pain.
What floor is suitable to use it upon?
Little Tikes 3′ Trampoline is good to use on all types of floors. However, for extra safety, it is better to have carpet flooring.
Final Words:
How was the Little Tikes Trampoline Review?
If you think getting a Little Tikes 3′ trampoline will help your toddler grow up healthy, then you're right. This energy burner is perfect for expending kids' energy while also helping to improve their endurance, balance and coordination.
Since it is designed for interior design, it doesn't take up much space, is easy to assemble and can be stored in small spaces. So if you have a small apartment or flat, live in a place prone to rain, or can't take your kids to the play area every day, then this Little Tikes 3′ trampoline is the best thing you can get for your ninja.
Video Reviews – What Are Others Saying?