Children need all the exercise they can get. Playing video games and looking at their cell phones all day does not count. Also, you have to think about the weekends and the summertime when it comes to your kids being involved in activities.
Let's face it, there some sports activities that you really do not care to be part of and your child may not be the best at them.
So how would you get your child out of the house to do something fun and different?
It is quite simple.
Introduce them to an activity that is not only fun-filled but will get their adrenaline going and give them a reason to put the video games aside for a few hours.
Hoops, Bounce, Free throws, and Dunks
Let your child enjoy hoops, bouncing, free throws, and dunks all at the same time. Your kids will enjoy an activity that has been around for years and has become very popular.
What is the name of this playful activity you asked for?
Trampoline Basketball.
You just take one highly enjoyable sport and combine it with a trampoline. After that, you watch your children have fun all day. They will thank you for it and will most likely not come back into the house until nightfall because of it.
Best of all, you can get enclosure systems that will keep your child safe while they play. This review should help you decide which basketball accessory to get if you have older or younger kids.
If you are looking to get a new hoop or upgrade to something more sturdy for the older ones, you should look at this review as well.
#1. Jumpsport ProFlex Basketball Set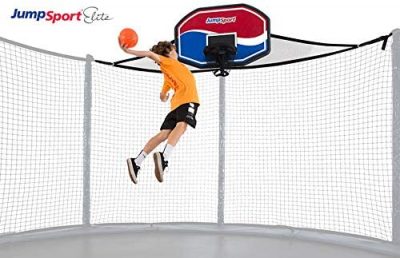 The Jumpsport ProFlex Basketball Set comes with both fun and safety in mind.
Being that it is a ProFlex accessory, it includes a backboard with an 11" hoop and a basketball that is inflatable.
The backboard is an enclosure so your kids can play without falling off the trampoline.
Best of all, it is very easy to set up and the children are going to love it.
Just to let you know, the basketball set will only fit on the AlleyOop enclosure systems, the Jumpsport Elite and Jumpsport Classic. You can install it easily as long as you have one of those options.
#2. Trampoline Pro Jump Slammer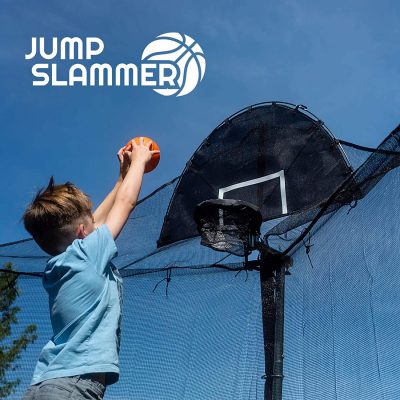 The Trampoline Pro Jump Slammer is an awesome setup that will definitely keep your kids occupied all weekend. It comes with a foam ball and is adjustable for younger and older kids. There is even a flexible rim that can be moved to keep anyone from being harm.
Makes sure that you have enclosure poles to attach the hoop to. An airball safety net and breakaway safety rim are all included. Having the breakaway safety rim helps when your kids decide to get an adrenaline rush, the whole thing won't come tumbling down on them.
If you have small children, then the foam ball is the obvious choice.
Because the parts have a lifetime warranty, you can get them replace at no cost to you. This is good because your slam dunkers might want to try some Lebron or Jordan moves on the net and will get a little rough. In order for the setup to work the enclosure poles must be 1.5 in diameter or smaller. This is because the U-bolts and are very common in terms of size.
#3. SkyWalker Hoop and Basketball Accessory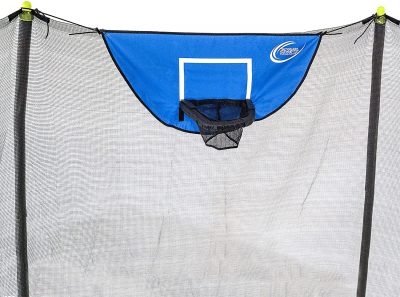 This one is a winner with smaller children as it is designed especially for them. Older kids will not like this one as it is made of softer material and will not hold up in rough play. Parents will find themselves replacing this one faster than they would like to.
However, if you do have smaller children then this is perfect. The soft material that the rim is made out of is perfect for them. You don't want your child's limbs getting stuck in the cracks and crevices.
This is the safety that this particular rim provides. If enough pressure is applied, the rim will detach but will not cause injury. Your kids can enjoy hours of playtime without getting hurt.
The material is waterproof which is good because it will last long. A foam ball is included as well. You have to love the fact that this is a set made for younger children, which keeps them from being left out in having the same kind of fun as the older children.
#4. Propel Trampolines Jump 'N' Jam Trampoline Basketball Hoop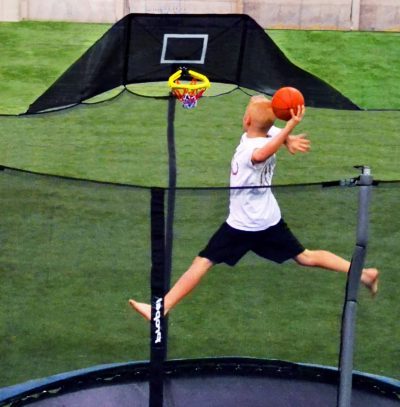 For the little slam dunker in the family, you might want to check this one out. The Propel Trampoline Jump-N-Jam Basketball Hoop Comes with a safety flex rim and a slam dunk ball. It comes with a backboard that helps to promote coordination for kids.
There is a pump included for the ball. In order for this to work out for your child, you must have a Propel or Kinetic Trampoline. This one is definitely designed for older children.
Your kids can practice their slam dunks all day and pump up the ball when needed on their own.
You don't have to worry about whether or not you have the right ball for dunking because that is what this specific ball is for.
It is called the dunk with ease ball. So let them play all day in the enclosure getting their dunks down pact and improving their coordination skills all at the same time.
#5. Skywalker Trampolines with Double Basketball Hoop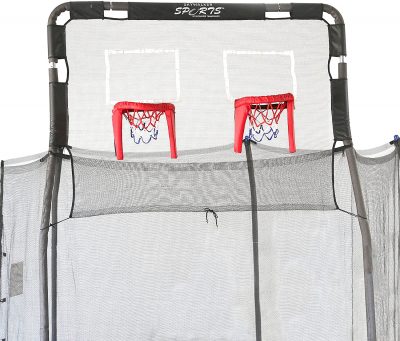 Now this is particular accessory is right for the entire family. You get a double hoop so that your kids can have fun for hours at a time. If you have multiple children, this might be what you need.
With a double hoop, your kids can shoot all day and dunk without being injured. Both hoops do break away to keep their limbs from being caught up.
Also, what makes the hoops even more enjoyable is that one child can take their shots in the enclosure while the other can take their shots from the grass. The whole family can get in on it as well.
You are looking at activities that promote exercise for everybody.
This double hoop is particularly designed for a 15' trampoline with 6 poles. It is always good for families to do activities together and this could be one of them. Your child will get a kick out of spending time with them on this double hoop basketball accessory.
#6. JumpKing Basketball Hoop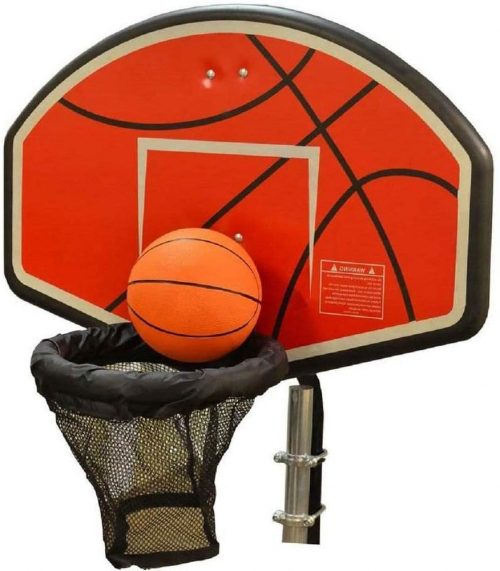 For the future Steve Currys and James Hardens in your family, the Jumpking Basketball hope provides some good support for the serious young player.
They can jump, shoot, and dunk while enjoying lots of backboard action.
Your older child will not want to come inside for while if you get them this hoop. They can show off their skills all day every day while getting their heart pumped up.
Exercising with this hoop is good. Your child can dunk and shoot from many angles.
Of course, the rim is padded and the ball is inflatable to 6 inches. Let your child get to ballin on this hoop. Best of all, this hoop is very sturdy.
Buyer's Guide for the Trampoline Basketball Hoop
You are probably very excited and want to know how you get one of these in your backyard. What are the first steps should you take in purchasing something so amazing for your kids? Are any of them worthy enough to spend your money on?
Should you Spend your Money on This
Yes, you should.
There are plenty of benefits as to why your child needs this in the backyard:
They will be getting the exercise that they need on a daily basis.
You will see their coordination and balance improve. Your child will go from being clumsy to sturdy on their feet.
Your trampoline will get plenty of use. If you have not been able to get the kids on it, playing basketball will cause them to love it all over again.
If they can play basketball this way, they will grow to love and appreciate the sport more than just by watching on television or playing it on a gaming console.
This gets them out of the house more often and decreases boredom. Your children can invite friends over to have fun for hours and at a time and enjoy a good old-fashioned childhood experience (going outside to play).
Playing a Trampoline Basketball Game or Two with my Kids
Parents get out there and spend some quality time with your children on that hoop. This is fun for the whole family. It will excitement to your child on what it means to go outdoors and have fun instead of being on the electronics all day. Play someone on one or girls versus boys. Enjoy a nice family outing right in your own backyard.
For the smaller ones who may not understand the sport, you can help them have fun by showing them how to bounce and dunk. They will get a kick out of trying to get the ball through the hoop. Since smaller kids are full of energy to start with, just sit back and watch them play and enjoy themselves. Let them wear themselves out dunking, shooting, and bouncing for hours on end. There is joy in having happy and active children.
Conclusion
You want your child or children to stay active, especially during the Spring and Summer months. Getting them outside does not have to be a hassle when you have a basketball hoop and trampoline combination. It will help money on your electric bill if they could turn off the tv for a few hours to go out and play on the trampoline with a nice basketball hoop. Also, it will bring a smile to your face knowing you gave them something different to do.