Since their creation in the early 20th century, trampolines have been a mainstay in family backyards across the country. Modern trampolines boast clever designs that are designed to keep jumpers safe while providing them with hours of fun.
If you're thinking about making an investment, you have a lot of options to choose from. One of the most overlooked is the shape.
For many decades, round trampolines were the go-to model. However, new innovations have lead to the creation of high-quality square trampolines.
While round and square trampolines are made for the same purpose, square units offer a number of benefits over their traditional counterpart.
Whether you're planning to use a trampoline as a part of your exercise routine or simply want to find a way to get your kids outside, a square model may be for you. They offer a unique bouncing experience compared to round options.
With their more uniform shape, they're also ideal if you have limited space in your yard. With new advanced manufacturing methods, square trampolines are built to serve you and your family for years to come.
There are a plethora of choices on the market. To help you on your search, here are few things you should consider prior to making the jump.
The Benefits of a Square Trampoline
The shape of a trampoline is much more than a cosmetic factor. The design of a trampoline affects its performance, versatility, and safety.
Bounce Factor
All backyard trampolines rely on metal springs to provide the bounce. The springs are attached to the frame and the jumping mat. Square trampolines utilize a different setup than round models. Typically, springs are positioned in a criss-cross pattern. This helps to absorb some of the force of impact with every jump. The result is a firmer and more manageable bounce.
Where you jump on the mat can also affect the quality of the rebound. On round trampolines, the springs are arranged to provide equal bounce throughout. While this may be beneficial in some instances, it can also limit your actions on the trampoline. The corners on a square model add some variety, making them an ideal option for experienced jumpers and acrobats.
Safety
Thanks to the firmer bounce provided on square trampolines, they're much safer for younger kids and adults alike. Younger kids will have to work a bit harder to get a higher jump. This will prevent them from bouncing beyond what's safe. The arrangement of the springs also changes the direction of your bounce. Round trampolines are designed to redirect you towards the center of the mat.
This action can prove to be a problem when there's more than one jumper on board. With square trampolines, a directional bounce is not a problem. You'll know where you are going to land, allowing you to play safely.
Increased Weight Limits
Most square trampolines are built with thicker steel when compared to round options. The use of high gauge steel makes the trampoline incredibly durable and safe for heavier jumpers. In fact, most square models have a significantly higher weight limit than round ones. This means that the entire family can get in on the fun.
Better construction methods also lead to better longevity. Framing issues are fairly common with round trampolines over time. The thinner steel can twist with every bounce and affect the overall structural integrity. With square trampolines, the structural supports and legs are specifically engineered with durability and safety in mind.
Versatile Placement
If you have a smaller backyard or simply want to utilize your outdoor space a bit better, square models are definitely the way to go. When you compare round trampolines and square trampolines of the same size, the square model will offer you up to 20% more jumping area. The lack of corners around the unit is just not practical and requires you to clear out more outdoor space than necessary.
Things to Look For When Buying A Square
When you're searching for the perfect trampoline for your needs, there are a few things to consider. Not all trampolines are made the same. You need to know what to look for to ensure that you're getting a solid product that can provide your family with years of enjoyment.
Size
Square trampolines can come in sizes ranging from 8 feet to 15 feet. This measurement refers to both the length and width. Before you choose a trampoline, check out your outdoor space to determine what size is best. Keep in mind that your new trampoline will need some open space around it to stay safe.
Frame Quality
Typically, frames are built from galvanized steel. Some manufacturers utilize tubes while others use thick square pipes. Both are adequate enough to provide the strength and stability you need. In addition to the material, take a look at the frame design itself. For the most stability, look for "W" shaped legs that offer two points of ground contact. The more legs there are, the safer the trampoline will be.
Mat Material
The actual surface you'll be bouncing on can be made from a variety of materials. Older trampolines utilized a waterproof canvas material. However, modern products are made from a strong polyurethane material. Look out for formats that have protective treatments. Some manufacturers apply a protective coating to decrease the chances of sun and water damage over time.
Another thing to look out for is the mat weave. Polyurethane mats consist of small strands that have been woven together. Thicker weaves with added reinforcement are the strongest options out there. They can prevent accidental rips from hard jumps.
Safety Accessories
With any trampoline, safety should be a top priority. It's important to look for products that utilize multiple layers of protection against falls. Most manufacturers include a safety enclosure that goes around the entire perimeter. It should have tall steel support rods that are covered in soft foam. The netting itself should attach to the mat so that there are no points of vulnerability.
Springs pads are also necessary. Springs can easily pinch the skin and cause injury to small fingers. Thick pads are designed to cover the springs and create a cushioned safety area for jumpers that may fall.
There are a lot of products available to fit your unique needs. The key to finding the right one is to do your homework. Keep an eye out for these important features and you'll be able to find a trampoline that's safe, fun, and durable. Here are a few great options to start your search.
Skywalker 14-foot Square Trampoline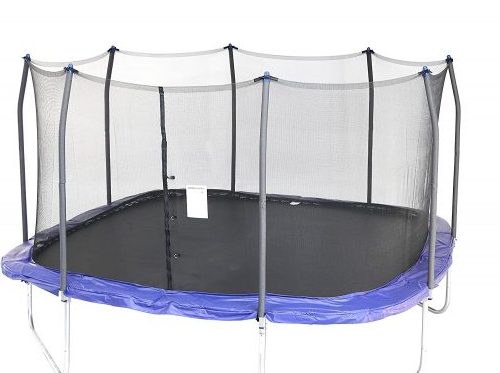 This trampoline from Skywalker is large enough for the entire family. While it does take on an overall square shape, Skywalker created somewhat of a hybrid shape by rounding the curves. This unique configuration provides the best of both worlds. You get the firm bounce and safety of a square trampoline with the slight directional rebound of a round trampoline.
Every part of the trampoline is built for longevity. The frame is made from thick galvanized steel that's protected from weather damage and rust. The bouncing mat is made of woven polyurethane that's UV protected. Also included with the trampoline is an enclosure net. It, too, has been treated for sun protection.
The net attaches to the frame via robust T-sockets. The attachment point is reinforced to ensure that twisting doesn't occur. The net frame rises high above the jumping height and bends inward to catch anyone that falls. For added safety, the supports are all covered in a thick foam. The net itself is attached to the bouncing mat and springs to create a gap-free jumping space.
Pros:
Heavy-duty materials throughout
Included safety enclosure
Included spring pads
Meets ASTM safety standards
Cons:
Some buyers have commented on the difficult assembly process
Produces a slightly lower jump height
Specifications
Measures 14 feet by 14 feet in size
250-pound weight capacity
Galvanized steel frame
Reinforced T-sockets
Gap-free enclosure netting
96 springs that measure 6.5 inches long
UV protected mat and net
Skywalker 15-foot Square Trampoline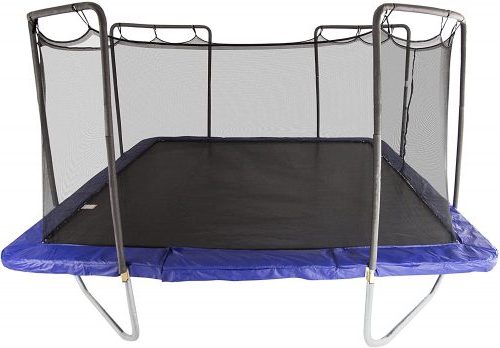 If you want an even bigger play space, this Skywalker model may be for you. Measuring 15 feet in both directions, it offers over 200 square feet of jumping space. This particular model forgoes the rounded corner design. It's a traditional square trampoline that offers a firmer jump.
The frame is made of galvanized steel tubes that measure approximately 2.4 inches in diameter. Like the previous model, the included enclosure net frame uses a T-socket to attach to the frame. This adds structural rigidity for ultimate safety. The legs of the frame have a distinct pattern. They're arranged diagonally on each corner. This setup keeps the vertical net rods out the way and helps to support the overall weight distribution of the trampoline. You won't have to worry about tipping the unit over by standing on the corner.
The enclosure net is attached to each V-ring on the mat to create seamless protection. The eight vertical supports are covered in soft foam to prevent physical damage during a fall.
Pros:
Expansive jumping space
Includes padding and safety enclosure
Welded and reinforced frame attachments
Meets ASTM safety standards
Cons:
Some buyers have commented on the confusing instructions
Requires separate ladder purchase
Specifications:
Measures 15 feet by 15 feet in size
250-pound weight capacity
16-gauge galvanized steel frame
Reinforced T-sockets
Gap-free enclosure net
All in all, a square trampoline is a great investment for anyone that wants a product that's safe, fun, and long-lasting. These types of trampolines have all of the beloved features you'd find on traditional models. However, every aspect from the frame construction to the bouncing experience is refined to ensure that you can your family can stay safe while having fun.