Any child who was lucky enough to grow up with a trampoline has fond memories of warm summer days spent bouncing higher and higher. Even if you're concerned about safety, SkyBound has created a product for the discerning customer who wants to provide a fun experience for their child without taking any risks to their health.
For kids of all ages, a trampoline is one of the greatest sources of summer fun. The SkyBound Stratos Trampoline is a product for the consumer that demands the best. The manufacturer has made this model from only the highest quality materials and implemented industry-leading safety features.
There are many competing trampolines on the market, and some are sold a little cheaper. But a high-quality trampoline is an investment that will last for many more years than the inexpensive knockoffs. Today, we'll take a look at some of the features to help you decide if the SkyBound Stratos trampoline is worth the additional cost.
SKYBOUND STRATOS TRAMPOLINE NOTABLE FEATURES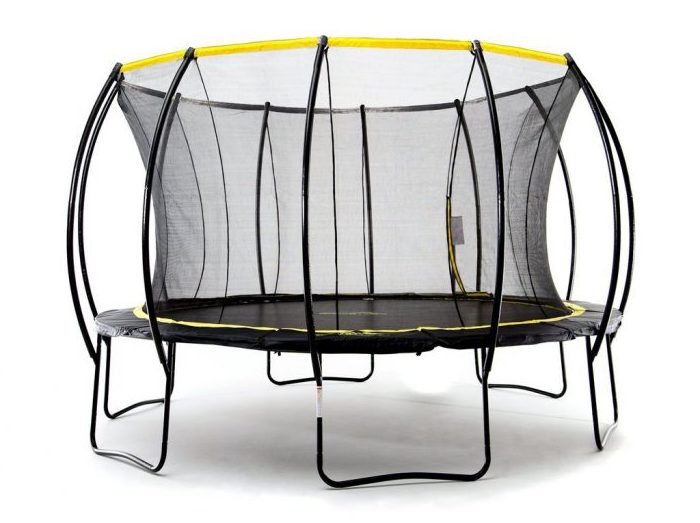 From the moment you take this SkyBound trampoline out of the box, it's clear that it was built to be high quality. The powder coated stainless steel frame and rust-resistant springs are certain to withstand many seasons of use.
The frame is made of galvanized steel and is completely welded. It will not corrode or shear like some of the more inexpensive spot-welded models. The Skybound Stratos comes with a  1-year warranty,  one of the best on the market. This is a perfect indication of the build quality, as the manufacturer is clearly standing behind their claims.
SkyBound has put a lot of thought and engineering into improving the ease of use of this product. There are no bolts to install, with each part of the frame being mounted using push-pins. Two adults could easily set up this trampoline in a little over an hour, with minimal sources of frustration or error.
Safety is another superior feature of the Skybound Stratos trampoline. The safety enclosure net takes advantage of strong support to ensure that children do not accidentally bounce off the trampoline and inflict harm on themselves or others. The included poles are lightweight and easy to set up, and the bent design can withstand a lot of force. The steel springs are covered with protective pads which adds another layer of protection to both kids and adults.
Even the most rambunctious children will not be able to take an unexpected fall. This trampoline has been built to exceed every one of the ASTM U.S. trampoline safety requirements, demonstrating SkyBound's commitment to safety.
PROS AND CONS OF THE SKYBOUND STRATOS
PROS
12 torqued enclosure poles create a much safer environment than competing products. By keeping the included net in a safe, stable position, children are unable to bounce outside of the trampoline.
UV-resistant safety net reduces sun exposure, protecting young children from the harmful UV rays on a hot summer day.
The powder coated stainless steel frame is incredibly durable and unlikely to bend or break.
Rust-resistant construction material keeps springs supportive and strong. There is no need to replace them even after several seasons of use.
Push pin design makes the unit easy and quick to set up or take down. No more corroded bolts in hard to access locations.
Leg frame tubes connect directly to the base of the trampoline. No unnecessary moving parts that can shear. This keeps the trampoline structurally sound, even after many seasons of use.
PVC trampoline pad is designed to be UV resistant. The stretchy fibers will not break down even in direct sunlight, a common problem with inexpensive models.
The product is very well packaged. It ships in three separate containers that reduce shipping costs and prevent parts from being damaged in shipping.
330lbs weight capacity makes it suitable for children of all ages – even when their friends come to visit.
CONS
High-quality construction comes at an increased price.
No basketball hoop available for this model.
Top netting needs to be carefully aligned with the PVC supports in order to provide a stable connection.
Does require two adults to set up.
FINAL REVIEW OF THE SKYBOUND STRATOS TRAMPOLINE WITH FULL ENCLOSURE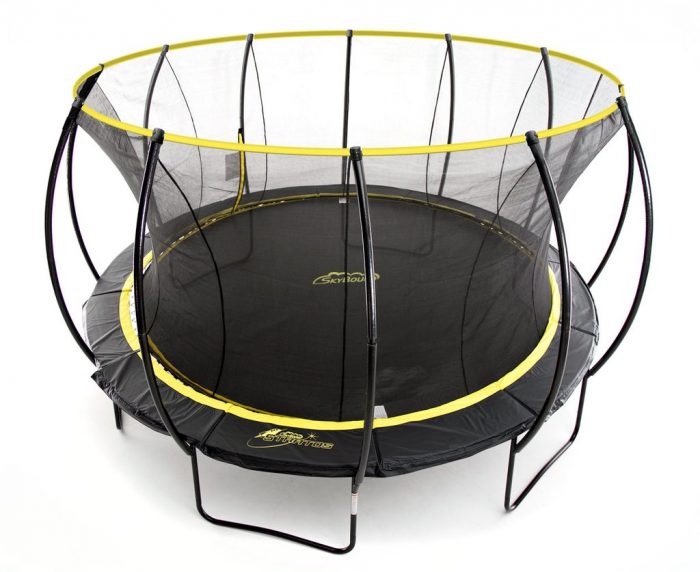 This is one of the top rated trampolines on Amazon and for good reason. The ASTM U.S. trampoline safety requirements were put in place to prevent dangerous products from being sold on the market. SkyBound has not just met these requirements, they have exceeded every one of them. This demonstrates that the manufacturer is committed to building a trampoline that is safe for all ages and isn't just interested in making a quick buck.
In the United States, weather conditions can change almost overnight. This product is extremely easy to set up and take down. There won't be any unnecessary struggling with a stuck bolt during the first snow of the year. The combination of slot-in and push-pin designs means that two committed adults can have this trampoline fully disassembled and stored in a minimal amount of time.
If you just want an inexpensive trampoline that will only be used infrequently, this might not be the product for you. But adults who want a durable product that will last for a long time will save a lot of money in the long run with this product.
Although it is only a little more expensive, the product should easily last twice as long as more than inexpensive units. That makes the SkyBound Stratos Trampoline a long lasting investment that will provide months of fun for all your children.